Human platelets and their capacity of binding viruses: meaning and challenges?
Received: 13 January 2015
Accepted: 3 April 2015
Published: 28 April 2015
Abstract
Blood platelets are first aimed at ensuring primary hemostasis. Beyond this role, they have been acknowledged as having functions in the maintenance of the vascular arborescence and, more recently, as being also innate immune cells, devoted notably to the detection of danger signals, of which infectious ones. Platelets express pathogen recognition receptors that can sense bacterial and viral moieties. Besides, several molecules that bind epithelial or sub-endothelial molecules and, so forth, are involved in hemostasis, happen to be able to ligate viral determinants, making platelets capable of either binding viruses or even to be infected by some of them. Further, as platelets express both Fc-receptors for Ig and complement receptors, they also bind occasionally virus-Ig or virus-Ig-complement immune complexes. Interplays of viruses with platelets are very complex and viral infections often interfere with platelet number and functions. Through a few instances of viral infections, the present review aims at presenting some of the most important interactions from pathophysiological and clinical points of view, which are observed between human viruses and platelets.
Keywords
PlateletsReceptorsVirusesInfectionHemostasis
Introduction
There is a large body of evidence that several types of viral infections led to sometimes severe and even life-threatening bleeding. In some of those infections, the platelet count drops dramatically; however, the precise mechanisms involved either in platelet destruction or impairment are still largely unclear, as well as the relative pathology counterpart of platelets and vascular endothelial cells. More largely, thrombocytopenia is common during or after viral infections and several mechanisms have been proposed to contribute to the drop of platelet count, including platelet destruction mediated by platelet-associated immunoglobulin G (IgG) or platelet–leukocyte aggregation, possibly leading to sequestration by macrophages, sequestration of platelets in the enlarged spleen, impaired production of thrombopoiesis, and direct effect of viruses on platelets.
Besides, albeit apparently infrequent though poorly examined in depth, platelets may bind and internalize infectious agents, with little clue on the outcome of the agent and of the "infected" platelet. The presence of viruses in platelets and their capacity of entry within those cells has been acknowledged for more than half a centenary: as early as of 1959, influenza viruses were forced to enter platelets experimentally, offering beautiful electronic microscopic images [
1
]. Questions relative to this situation have not been addressed then, perhaps because platelets were not yet acknowledged as "cells" but as debris. Viruses indeed find panoply of receptors that are not specific but rather permissive (as cartooned in Figure
1
). FcγR bound viruses can also enter platelets as those cells can ingest immune complexes [
2
]. However, it is not yet clear whether platelets, by taking up viruses, contribute to the transport and the dissemination of infection
in vivo
or if, on the contrary, they help the host organism to defend against infection. Platelet–virus interactions may have an ambivalent role, depending on the virus species and on the platelet and megakaryocyte (MK) environment [
3
].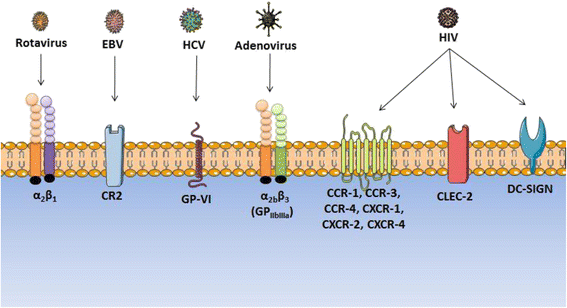 This mini-review aims at addressing the apparent complex issue of mutual relationships between certain viruses and platelets.
Conclusion
In the light of the preceding considerations, the relationship between platelets and viruses appears to be very complex and heterogeneous. The commonest feature is probably the decrease of platelet count during viral infection, with sometimes threatening levels and bleeding. Two other common features are a profound disturbance of the coagulation process at large (primary hemostasis, clotting and fibrinolysis) and a sustained inflammation, some platelet factors intervening in both hemostasis and inflammation; a special link between these two events is very likely during viral infection but not yet fully understood. The functional properties of platelets are profoundly altered during viral infection and in particular their capacity to control the leukocyte containment within circulation or emigration to tissues; viral infections where platelet disturbances are noticeable seem to be accompanied by an altered vascular integrity, allowing leakage. The role of platelets as exerting virostatic effects would also need to be addressed; although it seems rather limited or at least over-helmed by the global inflammatory environment, the fact that platelets are induced to massive death as consequences of direct attacks of viruses or virus-infected cells must be taken into consideration. Finally, a better understanding of the interplay between platelets and viruses would certainly help correcting the platelet defects that are commonly observed and that may be severe, with no treatment identified so far; platelet component transfusions may be needed but, even though, with imprecise and non consensual recommendations for prescriptions and use. In aggregate, roles of viral platelets in viral infection are dominated by pathologic inflammation with evident but not exclusive consequences in hemostasis. Further research in platelet mediated-immunity during viral infection would be helpful, both from a conceptual point of view due to the variety of current pathophysiological situations and the likely severity of certain clinical pictures, especially when hemorrhagic symptoms are present.
Declarations
Acknowledgements
Adrien Chabert's PhD fellowship is supported by the Region Rhône-Alpes, which is also greatly acknowledged for its invaluable support. The Platelet Team activity within the EA3064 group benefits from grants from EFS, ANSM, ANR, ART and "Les Amis de Rémi", to which/whom the authors express their gratitude.
Authors' Affiliations
(1)
EA3064—GIMAP, Université de Lyon, Saint-Etienne, France
(2)
Service des Agents infectieux et d'Hygiène, CHU de Saint-Etienne, Saint-Etienne, France
(3)
EFS Auvergne-Loire, Saint-Etienne, France
(4)
Laboratorio de Trombosis Experimental, Instituto de Medicina Experimental, ANM-CONICET, Buenos Aires, Argentina
(5)
Laboratorio de Virus Animales, Instituto de Biotecnología y Biología Molecular, UNLP-CONICET, La Plata, Argentina
(6)
Institut National de la Transfusion Sanguine, Paris, France
(7)
INTS, 6 rue Alexandre-Cabanel, Paris, France
Copyright
© Chabert et al.; licensee BioMed Central. 2015
This is an Open Access article distributed under the terms of the Creative Commons Attribution License (http://creativecommons.org/licenses/by/4.0), which permits unrestricted use, distribution, and reproduction in any medium, provided the original work is properly credited. The Creative Commons Public Domain Dedication waiver (http://creativecommons.org/publicdomain/zero/1.0/) applies to the data made available in this article, unless otherwise stated.