Research article
Open Access
The Toll-Like receptor adaptor TRIF contributes to otitis media pathogenesis and recovery
Received: 9 March 2009
Accepted: 5 August 2009
Published: 5 August 2009
Abstract
Background
Toll-like receptor (TLR) signalling is crucial for innate immune responses to infection. The involvement of TLRs in otitis media (OM), the most prevalent childhood disease in developed countries, has been implicated by studies in middle ear cell lines, by association studies of TLR-related gene polymorphisms, and by altered OM in mice bearing mutations in TLR genes. Activated TLRs signal via two alternative intracellular signaling molecules with differing effects; MyD88 (Myeloid differentiation primary response gene 88) inducing primarily interleukin expression and TRIF (Tir-domain-containing adaptor inducing interferon β) mediating type I interferon (IFN) expression. We tested the hypothesis that TRIF and type I IFN signaling play a role in OM, using a murine model of OM induced by non-typeable Haemophilus influenzae (NTHi). The ME inflammatory response to NTHi was examined in wild-type (WT) and TRIF-/- mice by qPCR, gene microarray, histopathology and bacterial culture.
Results
Expression of TRIF mRNA was only modesty enhanced during OM, but both type I IFN signalling genes and type I IFN-inducible genes were significantly up-regulated in WT mice. TRIF-deficient mice showed reduced but more persistent mucosal hyperplasia and less leukocyte infiltration into the ME in response to NTHi infection than did WT animals. Viable bacteria could be cultured from MEs of TRIF-/- mice for much longer in the course of disease than was the case for middle ears of WT mice.
Conclusion
Our results demonstrate that activation of TRIF/type I IFN responses is important in both the pathogenesis and resolution of NTHi-induced OM.
Keywords
Otitis MediumBacterial ClearanceMucosal HyperplasiaMyeloid Differentiation Primary Response GeneChocolate Agar Plate
Background
Otitis media (OM) is the most common pediatric disease in industrialized nations [1, 2]. OM is characterized by hyperplasia of the middle ear (ME) mucosa, the development of effusion, and leukocytic infiltration of the ME [3, 4]. The etiology of OM is multifactorial, with Eustachian tube dysfunction, prior viral infection and allergy [5–7] all being factors known to contribute to OM incidence. However, bacterial infection is common to most acute and/or recurrent OM. Non-typeable Haemophilus influenzae (NTHi), which since the introduction of pneumococcal vaccines is associated with an increasing percentage of OM [8], is one of the most common pathogens isolated from the ME in OM.
NTHi can influence host cells through interaction with pattern recognition receptors, which recognize molecules produced by pathogens and which play a key role in innate immunity. They serve as the first line of host defense in infection, and they include the family of Toll-like receptors (TLRs). As illustrated in Figure
1
, TLR activation induces pro-inflammatory cytokines such as interleukins (ILs), tumor necrosis factor alpha (TNFα) and type I interferons (IFNs), via signaling cascades including those dependent upon the MyD88-NFkB, TRIF-IRF3 and/or MAP kinase pathways. All TLRs except TLR3 recruit the adaptor MyD88 (Myeloid differentiation primary response gene 88), which can influence gene expression by activating downstream intracellular pathways. The most dominant of these is NFκB, leading to the production of TNFα and other pro-inflammatory cytokines. MyD88 can also activate the JNK and p38 MAP kinase pathways with subsequent expression of stress and inflammation genes. Finally, MyD88 can activate the IFN response factors (IRFs) IRF5 and IRF7. IRF5 mediates the production of pro-inflammatory cytokines, while IRF7 can lead to the expression of type I IFN genes (IFNs α and β). The alternative TLR adaptor TRIF (Tir-domain-containing adaptor inducing interferon β) is recruited only by TLR3 and TLR4. TRIF primarily activates type I IFN gene expression via IRF3, although via RIP1 and with delayed kinetics it can activate NFκB and MAPKs [
9
–
11
].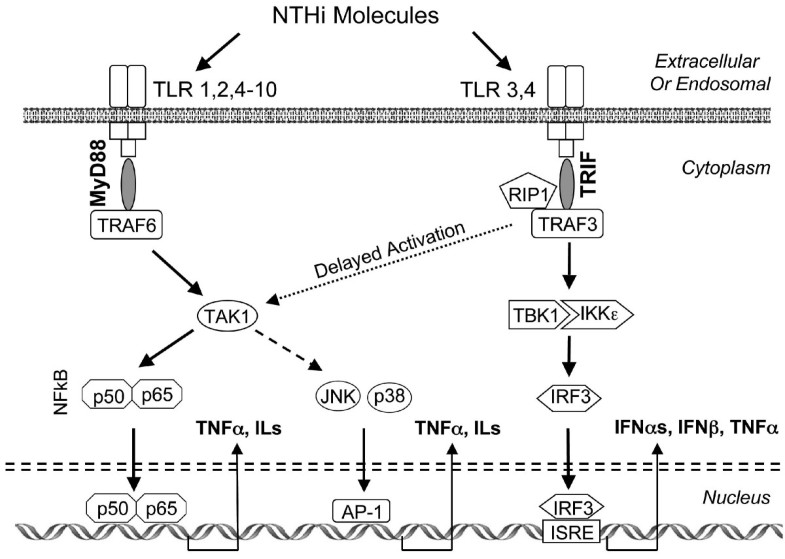 While ME responses to TLR ligands such as peptidoglycans and lipopolysaccharide (LPS) are well documented [12, 13], the role played by TLR signaling pathways in OM pathogenesis has not been as fully studied. In ME epithelial cell lines, NTHi induces TLR2 expression [14, 15] and TLR2 activation regulates the expression of pro-inflammatory cytokines and mucin genes [16–18]. Moreover, polymorphisms in the TLR4 gene are associated with increased OM susceptibility in children [19]. Polymorphisms in the genes for TNFα, a major pro-inflammatory target of TLR signaling, and for IL-10, which often opposes TLR signaling, are associated with OM [19, 20]. Experimentally, reduced short-term responses to NTHi, from 6 hours to 3 days, were reported in the MEs of C3H/HeJ mice, which express a nonfunctional TLR4 [21]. TLR signaling deficiencies have also been shown to induce abnormalities in the recovery from bacterial infection at other sites [22, 23].
We recently reported that MyD88 deficiency significantly prolongs OM and delays bacterial clearance from the ME of mice by weeks [24], suggesting that this adaptor molecule is critical for OM recovery. However, OM does improve over time in MyD88-deficient animals, with the majority of MEs clearing NTHi by 42 days (our unpublished observation), suggesting a MyD88-independent response to infection in the ME. We also evaluated OM in TLR4-deficient mice, and found impaired early bacterial clearance and delayed recovery [25]. In dendritic cells, both TRIF and MyD88 are known to play major roles in responses to TLR4 ligands [26, 27]. We therefore explored the potential role of the major MyD88-independent TLR signaling pathway, which acts via the adaptor protein TRIF, in OM.
Using a well-established experimental model of OM induced by NTHi [28], we evaluated the expression of genes related to TRIF signaling during acute OM, to determine whether genes that subserve this pathway or are its targets are altered, which would suggest a role in mediating innate immunity in this condition. Using TRIF-deficient mice, we also assessed the role of TRIF in OM pathogenesis and ME bacterial clearance. Compared to control mice, we demonstrate extensive expression of genes related to TRIF-mediated signaling in OM in WT mice. We also found that the lack of TRIF reduces and delays the expression of the characteristic histopathological findings of OM, indicating a role in mediating pathogenesis. We also observed delayed bacterial clearance suggesting that TRIF contributes, at least in part, to antibacterial responses in the ME. This paper presents the first demonstration of the role of TRIF in OM.
Discussion
In this investigation we found that biological processes mediated by TRIF activation contribute to the pathogenesis of NTHi-induced OM in mice. After NTHi infection of WT mice the expression of TRIF, as well as of many TRIF-associated signaling genes and type I IFN-responsive genes, was up-regulated. Moreover, animals deficient in TRIF exhibited altered OM, consisting of delayed and reduced morphological signs of mucosal hyperplasia and inflammation as well as a delay in bacterial clearance.
As noted above, TRIF is recruited and activated following ligand binding to TLR3 and/or TLR4, both of which are up-regulated in the ME by exposure to NTHi [25]. TLR4 is expressed by epithelial cells in the ME mucosa, and also by infiltrating leukocytes [25]. While TLR3 has not been localized in the ME, it is an intracellular receptor found on endosomal membranes of phagocytic and other cells [11]. Moreover, NTHi infection produces molecules that serve as ligands for these TLRs. Lipooligosaccharide (LOS), with molecular structure closely related to LPS, can activate cellular signals via TLR4 [11, 41]. TLR3 is preferentially activated by double-stranded RNA from viruses [42], and this mode of stimulation would presumably not be involved in the response to NTHi. However, bacterial RNA is also able to activate TLR3 [43, 44]. In addition, host molecules released during host cell injury or death can activate TLRs. TLR3 can respond to host mRNA and DNA [45] while TLR4 can be activated by heat-shock proteins [46], both of which are released during tissue injury as is known to occur in OM [e.g. [47]]. Injection of TLR ligands, including LPS, into the ME mimics many of the pathologic changes observed in OM, including mucosal inflammation and edema, ME pressure abnormalities, and infiltrate of leukocytes into the subepithelial space and the ME lumen [12]. Thus substrates for TRIF activation are present in the ME during OM, and TLR activation independent of infection can contribute to its pathogenesis.
The dominant biological response to TRIF activation is type I IFN gene expression. The type I IFNs can be produced by a variety of cell types, unlike the so-called immune IFNs (type II, IFNγ) that are produced primarily by T-cells [48]. Type I IFN expression is induced by the activation of IKKε, TBK1 and IRF3, all of which we found to be significantly up-regulated in the ME following NTHi inoculation. IRF3 activation in turn induces the expression of type I IFNs and other genes containing ISREs (IFN-stimulated response elements) in their promoters, including a number of type I IFN-inducible genes [49]. The type I IFNs are classically associated with response to viral infection. However, it has long been noted that exposure to bacteria can increase the expression of type I IFNs and IFN-related genes [e.g. [50, 51]], and that expression of IKKε, downstream from TRIF and upstream from IRF3, is enhanced by LPS [e.g. [52]]. Bacterial induction of type I IFNs is presumably related to their initial role in innate immunity and their later roles in dendritic cell, macrophage and T-cell activation. Type I IFN-inducible genes have diverse functions related to inflammation and immunity, including cellular RNA and protein metabolism, growth and differentiation, apoptosis and signal transduction [53].
The production of type I IFNs by peripheral blood leukocytes is reduced in individuals susceptible to upper respiratory infections [54, 55], including OM [56]. Moreover, type I IFNs are pro-inflammatory and could contribute to OM pathogenesis. In addition, type I IFN gene expression is known to make significant contributions to adaptive immunity, which could influence late responses to NTHi. For example, type I IFNs contribute to the maturation of dendritic cells [57, 58], the cross-priming of CD8 T-cells [59], and the production of IL-12 [60]. In the presence of TNFα, type I IFNs can also facilitate the development of the pro-inflammatory Th1 T-cell phenotype [61]. As a result, T-cells of both IFN-β deficient [62] and IFN-α/β receptor-deficient mice [63] show a less inflammatory, Th2 bias. As noted above, TRIF can also be associated with the production of TNFα and interleukins via NFκB activation, albeit at a lower level and with delayed kinetics when compared to MyD88 mediated processes.
Our gene expression data support the idea that TRIF signaling is active during NTHi-induced OM. TRIF mRNA was found by qPCR to increase during NTHi-induced OM. Moreover, TRIF expression was up-regulated in uninfected mice deficient in either TLR2 or TLR4, possibly suggesting a compensatory change in TLR signaling. Given that TLR2 and TLR4 can employ different signaling mechanisms (Figure 1), it is surprising that TRIF expression is so similar in the absence of either gene. However, we have previously shown [25] that TLR4 is required for the early up-regulation of TLR2 induced by NTHi, which may account for the similarity.
GO analysis of gene array expression patterns during OM identified type I IFN signaling as a pathway that is significantly regulated in the ME by exposure to NTHi. Transcripts encoding most elements of the TRIF signaling cascade are also up-regulated, especially 24 hours after NTHi inoculation. While most type I IFN genes were not extensively regulated during OM, expression of at least some appears to be enhanced. This was especially true of a proposed IFNα gene similar to IFNα7, which showed a sharp spike in fold expression within hours of NTHi inoculation, but several IFN genes were mildly up-regulated later in OM. Finally, genes responsive to type I IFNs are strongly up-regulated at 3–6 hours and again at 2–3 days after NTHi inoculation.
The relatively low degree of regulation of type I IFN genes that we observed when upstream TRIF signaling and downstream IFN-regulated genes were more extensively up-regulated is puzzling. One possible explanation is the potential for regulation of IFNα genes that are not represented on the Affymetrix mouse microarray. Alternatively, increased TRIF signaling could bypass type IFNs and interact directly with ISREs in the promoters of IFN-responsive genes. Thus it can be speculated that the increased production of "IFNα similar to IFNα7," which we observed immediately after NTHi inoculation, or of an undocumented IFNα might mediate the initial response of type I IFN-inducible genes observed at 3–6 hours (Figure 3C, Additional File 3). However, many of these genes contain ISREs in their regulatory DNA [49], and so might be directly regulated by IRF3. The later peak in expression of type I IFN-inducible genes, at 2–3 days after inoculation, could again be mediated by the type I IFNs themselves, by enhanced signaling through mildly up-regulated IFNα/β receptors and/or by direct regulation of ISREs [49] through IRF3 and other elements of the TRIF signaling cascade, which were up-regulated at 1 day. Of course, an alternate potential source of type I IFN-related gene expression after NTHi is activation of IRF7 via MyD88, which can also induce the expression of type I IFNs and IFN-inducible genes. This may be especially true for their expression later in OM. While lack of MyD88 has relatively little influence upon early OM, it has a very strong influence upon late events [24]. However, the most compelling evidence for the involvement of TRIF signaling in OM is the altered OM phenotype observed in TRIF-/- mice, consisting of decreased initial inflammatory response to NTHi, and delays in both mucosal recovery and bacterial clearance. These data suggest that TRIF contributes to both early and late events in OM.
TLR4 is activated by endotoxins, including the LOS of NTHi [12], and therefore seems the most likely TLR to activate TRIF. We have shown previously [25] that mice deficient in TLR4 show initial mucosal hyperplasia similar to that of WTs, and demonstrate early leukocyte infiltration which exceeds that seen in WTs but differ in expressing early defects in TLR2 and TNFα gene expression and in persistent hyperplasia and impaired bacterial clearance. Since TLR4 can signal via the alternative adaptor MyD88, differences between the TLR4-/- and TRIF-/- phenotypes suggest that this TLR signals via both adaptors. Finally, it has been suggested that additional pathogen receptors sensitive to bacterial molecules and using the TRIF adaptor may exist [64].
In a previous study [24], we found that in response to NTHi, animals deficient in MyD88 also initially develop mucosal hyperplasia and leukocyte infiltration of the ME similar to WT mice. Since both ME mucosal hyperplasia and leukocyte infiltration are delayed in TRIF-deficient animals, it thus seems possible that initial ME mucosal hyperplasia and leukocyte infiltration in response to NTHi are mediated in part by signaling via TRIF. Interestingly, despite the delayed and reduced leukocyte infiltration in TRIF-/- mice, these animals did clear NTHi from the ME, albeit with a delay. This suggests that the TRIF-deficient macrophages that enter the ME may well be capable of efficient phagocytosis and bacterial killing. It should be noted that mucosal hyperplasia persisted longer in TRIF-/- mice than in WTs, indicating a potential involvement of this adaptor protein in OM recovery.
Importantly, MyD88-null animals show failure of OM to resolve at 21 days post-inoculation and, indeed, higher levels of peak OM at after WT animals have completely recovered [24]. They also showed failure to clear NTHi from the ME out to 42 days (our unpublished observation). These data suggest that MyD88 may be more involved in the recovery of OM than in the initiation of pathogenesis. In another study, we noted that TLR4, which can signal via TRIF, was more involved in early OM while TLR2, which does not use TRIF, was more critical for recovery [25]. Combined with the data from the present study, our results suggest that TRIF signaling may be more involved in immediate responses during NTHi OM than is MyD88. Other investigators have noted that TLR4 responses to pathogens can occur earlier than those of TLR2 [65]. One reason for this may be the ability of TLR4 to signal via TRIF, and to induce the expression of type I IFNs [30], as well as via MyD88. The type I IFN pathway has been suggested to mediate the most immediate TLR responses to infection, followed by MyD88 signaling inducing expression of pro-inflammatory cytokines like TNFα [41].
The higher levels of TRIF mRNA expressed in TLR2-/- and TLR4-/- mice in the absence of NTHi exposure suggests that activity mediated through these receptors normally suppresses the expression of TRIF. This may be a specific and compensatory response to decreased signaling via MyD88. Alternatively, increased pathogen loads in the ME may be responsible for the increase in TRIF mRNA. The enhancement of TRIF mRNA observed in our qPCR data following NTHi inoculation is consistent with the latter possibility.
Conclusion
The present study demonstrates that TRIF signaling is important for an appropriate host response to NTHi in the ME, and to the relevance of TLRs in the response of humans to infection [19, 20, 66]. These findings underscore the complex interactions of TLRs acting via both MyD88-dependent, and MyD88-independent signaling pathways in the induction and resolution of NTHi- induced OM. They further suggest the potential importance of these innate immune pathway molecules and their pathways as targets for new treatments of this important human disease.
Abbreviations
Ct:

comparative threshold
GO:

gene ontology
IFN:

interferon
IL:

interleukin
IRF:

interferon response factor
ISRE:

interferon-stimulated response element
LOS:

lipooligosaccharide
LPS:

lipopolysaccharide
ME:

middle ear
MyD88:

Myeloid differentiation primary response gene 88
NTHi:

non-typeable Haemophilus influenzae
OM:

otitis media
TLR:

Toll-like receptor
TNFα:

tumor necrosis factor alpha
TRIF:

Tir-domain-containing adaptor inducing interferon β
WT:

wild-type.
Declarations
Acknowledgements
The authors wish to thank Dr. Bruce Beutler and Dr. Timothy Bigby for TRIF-/- mice and Eduardo Chavez for mouse colony maintenance. This work was supported by NIH/NIDCD grants DC006279 and DC000129, and by the VA Research Service.
Authors' Affiliations
(1)
Department of Surgery/Otolaryngology University of California, San Diego, USA
(2)
Department of Medicine/Rheumatology, Allergy and Immunology University of California, San Diego, USA
(3)
Department of Medicine/Endocrinology, University of California, San Diego, USA
(4)
Department of Pediatrics, Division of Allergy, Immunology, Rheumatology, & Infectious Diseases, University of North Carolina at Chapel Hill School of Medicine, Chapel Hill, USA
(5)
Department of Otolaryngology, University of Lubeck, Lubeck, Germany
Copyright
© Leichtle et al; licensee BioMed Central Ltd. 2009
This article is published under license to BioMed Central Ltd. This is an Open Access article distributed under the terms of the Creative Commons Attribution License (http://creativecommons.org/licenses/by/2.0), which permits unrestricted use, distribution, and reproduction in any medium, provided the original work is properly cited.