Methodology article

Open Access
Gene expression trees in lymphoid development
Received: 18 May 2007
Accepted: 09 October 2007
Published: 09 October 2007
Abstract
Background
The regulatory processes that govern cell proliferation and differentiation are central to developmental biology. Particularly well studied in this respect is the lymphoid system due to its importance for basic biology and for clinical applications. Gene expression measured in lymphoid cells in several distinguishable developmental stages helps in the elucidation of underlying molecular processes, which change gradually over time and lock cells in either the B cell, T cell or Natural Killer cell lineages. Large-scale analysis of these gene expression trees requires computational support for tasks ranging from visualization, querying, and finding clusters of similar genes, to answering detailed questions about the functional roles of individual genes.
Results
We present the first statistical framework designed to analyze gene expression data as it is collected in the course of lymphoid development through clusters of co-expressed genes and additional heterogeneous data. We introduce dependence trees for continuous variates, which model the inherent dependencies during the differentiation process naturally as gene expression trees. Several trees are combined in a mixture model to allow inference of potentially overlapping clusters of co-expressed genes. Additionally, we predict microRNA targets.
Conclusion
Computational results for several data sets from the lymphoid system demonstrate the relevance of our framework. We recover well-known biological facts and identify promising novel regulatory elements of genes and their functional assignments. The implementation of our method (licensed under the GPL) is available at http://algorithmics.molgen.mpg.de/Supplements/ExpLym/.
Keywords
Additional Data FileDependence TreemicroRNA TargetDevelopmental ProfileDevelopmental Tree
Background
The study of gene regulatory mechanisms controlling cell proliferation and differentiation is central in developmental biology. Because all hematopoietic cells are easily obtained as individual cells, and due to high clinical interest, the development of lymphocytes is particularly well-studied [1, 2]. In mammals, all blood cells develop from pluri-potent, self-renewing hematopoietic stem cells (pHSC) of the bone marrow. In the classical model, these pHSC differentiate into common myelo-erythroid progenitors and common lymphoid progenitors [3]. The latter give rise to all cells of the adaptive immune system, including T, B and natural killer cells, which are the focus of our work.
Lymphocytes are well characterized; they can be purified by fluorescence activated cell sorting (FACS) exploiting the large variety of cell surface antigens, which appear in specific order during differentiation as the result of a linear sequence of genomic rearrangements at the T and B cell receptor loci [4, 5]. Based on this, lineage-specific expression and roles of transcription factors have been studied extensively [1, 2, 6]. It has been shown, for example, that Gata3 is required for CD4 T cell maturation and that Runx3 silences the CD4 gene in CD8 T cells. Very recently, a new class of regulatory RNAs, microRNAs, have been identified as being involved in lymphocyte cell development [7–9].
Several groups [
4
,
5
,
10
–
12
] have combined FACS mediated cell sorting and mRNA expression profiling to derive a more comprehensive picture of the lymphocytes in distinguishable developmental stages. Our interest focuses on these patterns of gene expression in the distinct stages of the developmental tree, the
developmental profiles
of genes; see Fig.
1
for a developmental tree. Observing such patterns, the first natural question to ask is whether further genes exhibit the same developmental profile; for example, are there other genes co-expressed with Gata3. It is reasonable to assume that genes with a prescribed pattern of expression, such as "up-regulated in proliferating cells", might be relevant for specific functions of cells in a particular stage of differentiation. Clearly, not all relevant developmental profiles are known beforehand, so clustering is the next logical step. Clustering allows us to divide genes into groups of similar developmental profiles, some of which will be irrelevant–genes expressed in all stages–others will differ in distinct branches of the developmental tree and thus indicate relevance for differentiation. Once the gamut of developmental profiles is determined, further questions can be addressed with statistical methods: which regulatory effects might cause differentiation, which subgroups of developmental stages share regulatory patterns or at which developmental stage is the difference in expression between two groups the largest. Prior work in this context relies on classical clustering methods, such as self-organizing maps [
4
,
5
], hierarchical clustering [
12
], or on performing tests of differential expression between cell types of interest [
11
]. Further studies concentrated on small-scale data, where selected genes are used to infer regulatory networks. One such study applied a state-space model to infer networks of T cell activation [
13
]. Troncale and colleagues adopted Petri Nets to model and infer regulatory networks of early pHSC development [
14
], while Basso and colleagues proposed a novel algorithm for a similar task [
15
].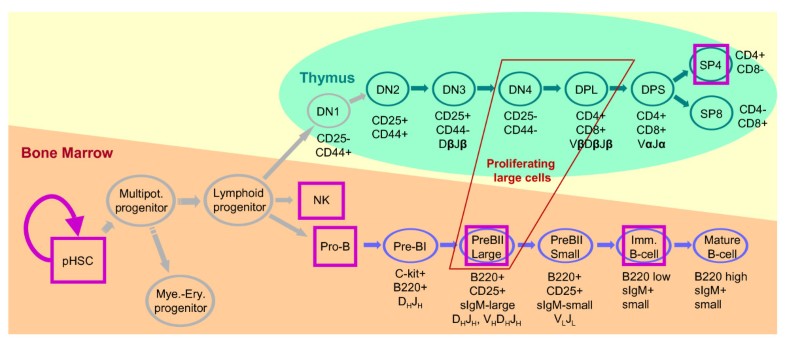 Classical clustering relies on distance functions between developmental profiles such as correlation or Euclidean distance, which neglect the dependence structure of the developmental tree (Fig. 1). As a matter of fact, the clustering result does not change if one permutes all the variables. Biology suggests however, that the very sequence of changes does matter as this exact sequence of events is what takes a cell from pluri-potent to, say, mature B-cell. Thus we propose dependence tree models–see [16] for the discrete variate version–to model expression during the course of development. Our model assumes that the dependence of gene expression between subsequent stages is the most relevant one for identification of co-expressed genes. We assume that gene expression has been measured for a sufficient number of stages, in particular those relevant for differentiation processes, and that the cell population in a particular stage is sufficiently pure. The disagreement between reality and our assumptions is subsumed as noise, which our method can successfully deal with on simulated data. If we consider all pairwise dependencies between developmental stages our model would be equivalent to a multivariate Gaussian distribution with full covariance matrix. Due to the complexity the estimation of such models is prone to over-fitting [17, 18]. The dependence tree model represents a tradeoff between methods assuming independence between variables, such as k-means and hierarchical clustering, and complex models, such as multivariate Gaussians, which makes estimation more robust.
With one such tree we can find genes with a specified developmental profile, for example similar to the developmental profile of Gata 3, by ranking genes in order of decreasing likelihood under the tree. To cluster developmental profiles we combine several trees with the same topology but with distinct parameters in a classical mixture model [17]; tree topologies are taken from the biological literature. Thus we obtain a robust and flexible statistical model for clustering genome-wide mRNA expression data sets, which takes the inherent dependencies between developmental stages explicitly into account. The resulting clusters of genes sharing similar developmental expression profiles are well-suited for a subsequent search for common regulators such as transcription factors or microRNAs.
Our choice of model class is motivated by the successful application of mixtures of complex statistical models to the analysis of mRNA expression time-courses. There, models that take temporal dependencies into account, such as Splines [19, 20], Autoregressive models [21] or Hidden Markov models [22], outperform simpler models, which assume independence of the variables, for example k-means, self-organizing maps or hierarchical clustering.
For discrete variates, dependence trees were first proposed by Chow and Liu [16], who showed that efficient computation is possible. Mixtures of trees were first proposed and applied in image recognition problems [23], where more efficient versions of the structure learning algorithm for sparse data sets became necessary. In bioinformatics, mixtures of trees were applied to infer mutation events in HIV strains [24]. We present an extension of the dependence trees to continuous variates, requiring modifications to the densities and provide a framework for robust clustering based on mixtures. To the best of our knowledge, there is no prior work on genome-scale mRNA expression analysis in which the developmental tree structure is taken into account. Both the biological application and our approach of combining tree models with mixture estimation for this purpose is novel. However, the main methodological ingredients are well-established. Our advanced statistical framework allows us to identify clusters of genes with similar developmental profiles. We detect interesting groups of genes not found using standard techniques, such as self-organizing maps [25], in developing lymphoid cells. Results on simulated data show the conditions under which our method has a technical advantage. From our clustering results we can identify plausible regulatory roles of microRNAs known to be involved in hematopoiesis. We provide a graphical user interface and a web database of clustering results; see [26] for implementations, a tutorial on how to use the tools, and a web database with the results presented below. Our findings suggest that our framework is well-suited for analysis of genome-wide expression data from detailed cell development studies.
Results/Discussion
In the next two sections, we describe the dependence trees and how they are combined in a mixture to find groups of developmental profiles. Subsequently, we present the results of the application of our method to three lymphoid cell datasets. In the last subsection, we analyze the groups of genes, given by our mixture of dependence trees (MixDTrees) results, for common microRNA binding sites patterns, in order to gain insights into regulatory function of microRNAs.
Conclusion
The regulatory processes behind cell proliferation and differentiation are of central interest to developmental biologists and clinicians alike and are frequently the focus of large-scale studies to investigate gene expression along paths of differentiation. To make full use of this data in a principled manner we present a novel statistical framework which models gene expression in the course of development. By combining the dependence trees in a classical mixture model, we facilitate interactive querying and visualization of data and, more importantly, the detection of possibly overlapping clusters of co-expressed genes, which provide a basis for the identification of key players in the regulatory mechanism and their mode of action.
In particular, we detect interesting groups of genes not found by classical clustering methods such as SOM. By incorporating microRNA binding data, we show how to identify complex regulatory relationships. Compared to an analysis based only on sequence, we predict a manageable number of plausible microRNA targets. Moreover, our method offers some insights into the biological role of predicted microRNAs, by the inspection of the developmental profiles of gene targets associated with one microRNA. A comparison with SOM indicates that our approach is more sensitive for finding co-expressed genes on which the same microRNA can have a regulatory effect.
Extensions to accommodate further types of data are straightforward. Binding sites of transcription factors can be analyzed completely analogous to the microRNA analysis. If expression levels of microRNAs in developmental stages investigated in TCell or BCell were available, we could incorporate a target prediction framework [62]. Furthermore, we can simply apply established techniques [63–66] to extend our mixture model to integrate heterogeneous data–sequence information, protein interaction, genotype, phenotype data–and semi-supervised extensions to mixture estimation can be applied to make use of biological knowledge about functional similarities and regulatory relationships [22, 67, 68]. This is of highest relevance, because the identification of regulatory modules is actually feasible compared to the automated inference of regulatory networks [69]. Once a statistical model is obtained, further detailed questions about the significance of differences, or the most likely stage, at which differentiation occurs can be easily answered.
Fascinating extensions are possible, even when one only considers gene expression data and the basic method. None of the currently publicly available data sets offers both a tree with a large number of branches and a detailed view of all, in particular early, development stages ([70] concentrates on mature and immature cells in final development stages); combining data from several microarray platforms suffers from the usual problems. Hence, we concentrate on two smaller but detailed studies covering several stages of T cell and B cell development [4, 5], and a tree containing three lineages of lymphoid cells. Note that in the latter several cell types of intermediary development stages are not measured. Nevertheless, our analysis indicates that our method takes advantage of the tree structure information in detecting relevant differences of gene expression in these lineages. This also reinforces the importance of the creation of expression compendia, such as the one in [70], where many intermediary stages of differentiation of the developmental tree are also present. Such data will be of great value as computational methods can exploit characteristics intrinsic to cell development.
Lastly, developmental biologists are still redrawing developmental trees with the discovery of new intermediary stages and "alternative" paths of development [1–3]; a particular developmental stage might also be formed by a mixture of distinct cell types not well characterized yet. As an example of an alternative path, there has been evidence that DN1 T cells can be originated not only from the lymphoid progenitor as depicted in Fig. 1, but also from the earlier multipotent progenitor cells [3]. It is an exciting prospect to infer branches and stages of a developmental tree from gene expression data, ideally per functional module. This structure learning (see [16] for discrete data) can be incorporated in the EM-based parameter estimation. In conclusion, our results suggest that the mixture of dependence trees provides a natural and powerful representation of developmental gene expression data. Furthermore, our results reinforce the importance of the creation of detailed and heterogeneous data sets for helping elucidate the regulatory mechanisms of development.
Methods
Data
Our work concentrates on two detailed studies covering several stages of the B and T cell development [4, 5] and a tree containing three lineages of lymphoid cells [10–12]. All gene expression data sets analyzed are deposited at the Gene Expression Omnibus [71]. Their accession entries are: GDS44 and GDS52 for BCell, GDS237 and GDS257 for TCell, and GDS1077 (HSC), GSE2227 (Bcells) and GDS828 (NK and SP4) for the LymphoidTree data. Final normalized and filtered data sets are found in [26]. Furthermore, we also use simulated data sets in order to evaluate the method. Finally, we describe a set of microRNAs that are used in our study.
Application in lymphoid development
We perform the following steps on each of the sets TCell, BCell, LymphoidTree, and SIM. The mixture estimation method is initialized with K random DTrees, which are obtained by choosing random values uniformly and in [0, 1] independently for each r ik and estimating the individual models. Subsequently, we train the mixture model using the EM-algorithm and MAP estimates. To avoid the effect of the initialization, all estimations are repeated 15 times, and the one with highest likelihoods is selected (a similar procedure is applied for k-means and SOM). The implementation of our method (licensed under the GPL) and MS Windows binaries are available at [26]. There you can also find a web database–generated with our MixDTrees Report tool–with results of all analyses described in this article.
On TCell and BCell, we used the SOM results as given by [
4
,
5
]. For SOM experiments on SIM data, we used the default parameters of the implementation [
25
], which uses a set of heuristics to select the values. Furthermore, we performed a clustering of SOM nodes with
k
-means as it is a common practice [
79
]. In order to facilitate the comparison between our clustering results and the clusters of the original work we reorder our clusters accordingly. Dependence between developmental stages is measured as the correlation between variables. Given two stages,
X
u
and
X
v
the correlation is defined as
where -1 ≤ ρu, v≤ 1 and ρu, v= 0 indicates independence of variables.
Abbreviations
BCell:

B cell development data
DTree:

dependence tree
DN:

CD4-/CD8- double negative cells
DPL:

CD4+/CD8+ double positive large cells
DPS:

CD4+/CD8+ double positive small cells
FACS:

fluorescence activated cell sorting
LympMIR:

hematopoiesis related microRNAs data
LymphoidTree:

lymphoid tree data
MAP:

maximum-a-posteriori
MLE:

maximum likelihood estimates (MLE)
MixDTrees:

mixtures of dependence trees
MixDTrees-MAP:

mixtures of dependence trees with MAP estimates
MixDTrees-MLE:

mixtures of dependence trees with MLE estimates
NK:

natural killer cells
pHSC – pluri-potent:

self-renewing hematopoietic stem cells
SIM:

simulated data
SOM:

self-organizing maps
SP4:

single positive CD4
SP8:

single positive CD8
TCell:

T cell development data
Declarations
Acknowledgements
We would like to express our gratitude to Fritz Melchers and Roland Krause (MPI for Infection Biology, Berlin) for helpful discussions, encouragement, and valuable comments about the manuscript. We also thank Christoph Hafemeister for his work on the software, and Benjamin Georgi and Ruben Schilling for revising the manuscript. The first author would like to acknowledge funding from the CNPq(Brazil)/DAAD.
Authors' Affiliations
(1)
Department of Computational Molecular Biology, Max Planck Institute for Molecular Genetics, Berlin, Germany
Copyright
© Costa et al; licensee BioMed Central Ltd. 2007
This article is published under license to BioMed Central Ltd. This is an Open Access article distributed under the terms of the Creative Commons Attribution License (http://creativecommons.org/licenses/by/2.0), which permits unrestricted use, distribution, and reproduction in any medium, provided the original work is properly cited.